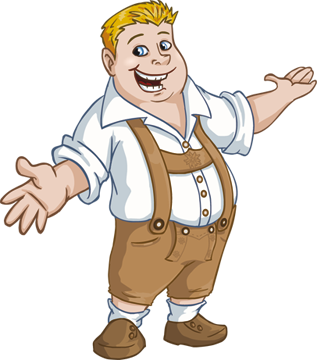 General Terms of Service
AGB/TOC
Below you will find our "Terms of Service". The English version of them are for your reference only. For legal disputes only the German version is valid.
§1 Vertragssprache und geltendes Recht
Vertragssprache ist Deutsch. Alle anderen Nebenabreden die in anderen Sprachen getroffen werden sind nur gültig wenn diese in Deutsch schriftl. festgehalten werden. Es gilt das Recht der Bundesrepublik Deutschland .
§2 Verspätung/"No Shows"
Ich warte 30 Minuten auf Sie, bzw. auf Ihre Gruppe. Nach Ablauf der 30 Minuten behalte ich mir das Recht vor, die Führung um die gesamte verspätete Zeit zu Kürzen. Wünscht der Gast die Führung zu Verlängern kann er diese pro 15 Minuten á € 15.- machen. Sollten Sie nicht zur Führung erscheinen, greift die in §5 beschriebene Storno-Bedingungen.
§3 Lederhosenparagraph
Als besonderes Schmankerl trägt der Guide für Sie eine Lederhose, bzw. bei weiblichen Guides, ein Dirndl. Bitte haben Sie jedoch dafür Verständnis das dies Wetter- & Witterungsabhängig ist und wir dies nicht garantieren können. Sollte daher ein Guide nicht in Tracht erscheinen, ist dies kein Grund für eine Preisminderung oder Stornierung.
§4 Unbesichtbarkeit der angegebenen Orte
Sollte unter Umständen eine oder mehrere der angegbenen Orte nicht besichtbar sein, verpflichtet sich der Guide für gleichwertigen Ersatz zu sorgen. Eine Rückerstattung von Beträgen ist nur möglich wenn die komplette Tour durch den Guide am Tag der Tour abgesagt wird. Sollte daher die Tour in Teilen durchführbar sein erfolgt keine Rückerstattung.
§5 Mobile WLAn Benutzung
Der Guide stellt als besonderen Service nach Möglichkeit einen mobilen WLAN Zugang für seine Geste zur Verfügung. Es besteht hierauf jedoch kein Anspruch. Die Gäste handeln auch auf eigenes Risiko (z.B. bzgl. Viren, angeschaute Inhalte etc.). Auch verpflichtet sich der Gast keine Illegalen Inhalte oder Downloads über das bereitgestellte WLAN zu verwenden. Sollte dies dennoch geschehen ist der Gast hierfür voll hafbar.
§6 Grenzübertritte
Teile der Tour können die Fahrt über die Landesgrenzen der Bundesrepublik Deutschland überqueren. Durch die Einreise in Deutschland sind Sie i.d.R. erlaubt andere EU-Länder zu bereisen. Der Fremdenführer ist jedoch nicht dafür verantwortlich, wenn Sie unzureichende Ausweispapiere für Überschreitung der Grenze zur Verfügung haben, und sich daraus Verzögerungen ergeben oder die Tour abgesagt werden muss.
§7 Beschädigung und Verunreinigungen
Jegliche Beschädigungen und Verunreinigungen (z.B. am Fahrzug, Bus, Gebäuden) ist der Gast selbst und voll haftbar. Ggf. ist er verpflichtet eine Barkaution oder Kreditkartendaten zur Begleichung des geschätzten Schadens zu übernehmen. Sollten Schäden über eine Haftpflichtversicherung abgerechnet werden können, ist der Gast in Vorleistung zu treten und die Kosten gegenüber seiner Versicherung selbst durchzusetzen.
§8 Ausführung durch Dritte
Teile der Tour können durch Dritte ausgeüfhrt werden. Wir bleiben Vertragspartner und es entstehen Ihnen keine Nachteile.
§9 Salvatorische Klausel
Sollten einzelne Bestimmungen dieses Vertrages unwirksam oder undurchführbar sein oder nach Vertragsschluss unwirksam oder undurchführbar werden, bleibt davon die Wirksamkeit des Vertrages im Übrigen unberührt. An die Stelle der unwirksamen oder undurchführbaren Bestimmung soll diejenige wirksame und durchführbare Regelung treten, deren Wirkungen der wirtschaftlichen Zielsetzung am nächsten kommen, die die Vertragsparteien mit der unwirksamen bzw. undurchführbaren Bestimmung verfolgt haben. Die vorstehenden Bestimmungen gelten entsprechend für den Fall, dass sich der Vertrag als lückenhaft erweist.
§1 Language of contract
The language in which contracts are valid is German. Any agreements are only valid if they are done in writing in the German language. Only the law of the Federal Republic of Germany is valid.
§2 Beeing late/No shows
If you are more then 30 minutes late then the scheduled time, I have the right to shorten the tour by the total time that you were late. If you wish to do the tour to it's full time, you will be charged for each 15 Minutes a rate of € 15.- If you're a "no show" please see the cancelation policy stateted in §5.
§3 "Lederhosen" policy
As a special treat, our guides dress in traditional bavarian clothing. For men this is a "Lederhosen" for women a "Dirndl". Not all traditional clothing is suited for all weather, so we can't gurantee a guide dressed in traditional clothes. We will make every effort ofcourse, but we hope you understand if one of our guides will conduct the tour in normal clothing. This case will not be reason to cancel or apply a discount towards the tour price.
§4 Closed sites
If one or more mentioned sites should be closed on the day of the tour, the guide will do his best to provide suitable alternatives. There will be no refunds given if part of the tour is not doable. Refunds are only given if the tour is completly canceled by the guide on the day of the tour.
§5 Mobile WIFI usage
As a special Service the guide might be able offer a mobile WIFI hotspot for his guests. There is however no claim or right to this service. The guests also act on their own responsibility (i.e. possibility of a computer virus infection, potentially disturbing material). The guest also agrees not view any illegal content or illegal downloads. If this does occur, the guests assumes full liability to full extent of the law.
§6 Border Crossings
Parts of the tour might cross into other European countries (i.e. Austria). If you were able to enter Germany you should be cleared to travel across EU borders. The guide is not responsible if you don't carry proper identification/visas and the result of any delays or visting of sites in these areas, or cancelation of the tour in this case.
§7 Damage & Trashing
The guest is fully liable for any damages and cleaning due to his actions that are necessary (i.e. vehicles, bus, structures). If necessary, the guest is required to leave a cash deposit or his credit card information inable to pay for the damages and/or cleaning fees in the estimated amount. If you have a personal liability insurance you are required to pay for these damages upfront and receive compensation from your insurance on your own.
§8
§9 Severability
If a provision of this Agreement is or becomes illegal, invalid or unenforceable in any jurisdiction, that shall not affect:
the validity or enforceability in that jurisdiction of any other provision of this Agreement; or
the validity or enforceability in other jurisdictions of that or any other provision of this Agreement.